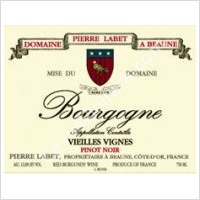 On the next card we have Domaine Pierre Labet (one of Spec's featured producers) versus the ubiquitous house of Louis Latour.
First Place:
2008 Domaine Pierre Labet Bourgogne Pinot Noir "Vieilles Vignes"
-- Medium light ruby. Medium intensity nose of sappy, sour cherries and sweet, moist, smoky earth. Bone dry, but with decent concentration of fruit in the mid-palate, along with a pronounced stony minerality. Thins out a bit on the finish, but is clean and quite pleasant. Still a bit of tannin showing. Drink with the next 18 months.
B.
Imported by Horizon Wines, Houston. Was $19 and change at most Spec's stores.
Second Place:
2009 Louis Latour Bourgogne Pinot Noir
-- Medium light ruby color. Shy but fresh nose of sour cherry and minerals, with some lemon coated rock dust. Crisp, very light flavors of vague cherry fruit and brambly twigs quickly spread through the mouth but thin out quickly. Some tannin but not much weight of flavor concentration. This wine has a bitterness that grows as the finish wears on.
C.
$16 and change at most Spec's stores (and lots of other places).
Moral of the Two Deathmatches:
This Burgundian throwdown nicely displayed the difficult reality of searching for bargain Burgundian Pinot Noirs: the ones that are worth it (like the '09 Bertrand Ambroise) are few and far between. Many are OK, but I'm usually left wishing I had spent my $15-20 on a Chianti Classico, a Cotes du Rhone, a Zinfandel, a Spanish Grenache, or a small grower Beaujolais-Villages.