A very subtle, balanced, unoaked Chardonnay with Verget's typically minerality in check.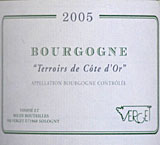 Very light, bright brassy gold color. Beautiful, subtle nose of buttered minerals, caramel, and pear. Soft, medium-light bodied flavors of apples, lemons, chalky minerals, with an unbelievably soft mouthfeel. Medium-long finish, with very nice balance. Would be great with light-flavored fish such as flounder, sole, or red snapper.
87
. Was $14.29 at Spec's on Westheimer.