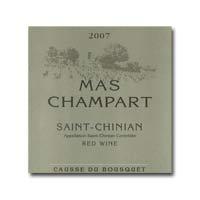 A really good and distinctive wine at its peak.*

65% Syrah, 15% Grenache; 20% Mourvedre.
Completely saturated black color with ruby highlights. Deep, complex nose of blackberry compote, toasty, saline-tinged sandstone, and roast pork. Mouthfilling, yet not as heavy as the color would lead you to expect. It has intensely minerally/stony flavbors enveloping a core of very ripe cassis fruit. Loads of tannin but it is so fine-grained that the textural impression is soft. Very stone/minerally finish. Surprisingly good acidity for a wine from this region (that's not to say the acidity is high, but that it's not too low). Nicely balanced. A-. Imported by Kermit Lynch, I got this from Zachys.com several months ago for $16/bottle.
* I say "at its peak" because while it was still good the second night, it started to noticeably deteriorate the third night, even though I had it vacuum sealed. That generally indicates to me that a wine is at or near peaking.