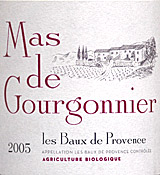 This wine is consistently a very good wine and very good value. It's always organically made from 50-60 year-old vines, and tastes like a traditional Provencal red. The 2010 is definitely up to past quality standards.
Very dark blackish ruby with a violet tinge. Dark rich, ripe berry fruit, equaled measure-for-measure by scents of graphite and sandstone. Low-toned minerally fruit coats the mouth, with lots of youthful tannin. Full-bodied, with good concentration, but no alcohol peeking through. It actually seems a bit tight. Very long finish, and nice balance. Will keep and improve for 2-4 years, but drinking well now for those who, like me, like 'em young (we're talking wines here, of course).
B+
. Was $15.99 at Whole Foods in Alexandria (Old Town). Imported by Dionysos Imports, Manassas, VA.
(Sorry, 2005 depicted)