I liked this so much
when I tried it in New England
that when I saw it here I wanted to try it again to see if I liked it as much outside the context of a fun family dinner. I did.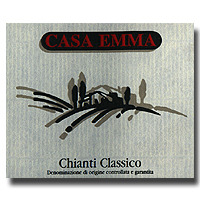 This is a very youthful, vibrant, aggressive Chianti.
Very bright, dark ruby color. Extroverted nose with lots of ripe chokecherries, licorice, earth, and fragrant wood smoke scents. Forceful, vibrant flavors -- cherries, leather, and stony minerals predominate. Bright acidity and lots of youthful tannin lend an
attractive
if not soft texture. A nice wine to have with Italian braised meats and stews, as well as
pasta
with tomato & meat sauces. Should be even better in a year or two.
88+.
Was $19 and change at Spec's on
Holcombe
(and I've seen it at other Spec's stores).
UPDATE 1/31/08: Sorry -- I had inadvertently listed this as the 2005 vintage, when it in fact was the 2004.