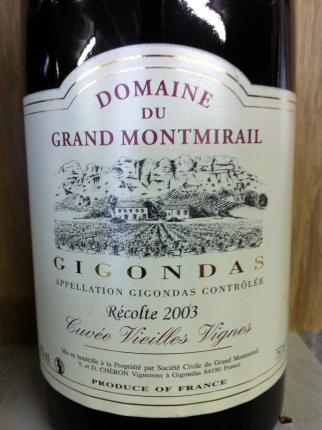 Not a typical Gigondas, but delicious. Much more lush and approachable than the textbook Giggie. 80% old vine Grenache.
Gorgeous color: deep, dark ruby. Nose is intensely minerally, showing a lot of warm sandstone and pungent crushed stone scents, along ripe black cherry and blackberry fruit, and a meaty, beef jerky component. Lush, ripe, and deep in the mouth. With low-toned blackberry fruit laced with baker's chocolate and emulsified crushed rock powder. Loads of soft tannin adds structure, but (unlike many Gigondases . . . Gigondi?), I wouldn't wait too long (no more than 3 years) to drink this up, as it's very open and approachable now, plus it's got low acidity. Very tasty!
A-
. Was $19.99 from WTSO.com (Wines Til Sold Out) -- which is very good for a Gigondas of this quality. Imported by Serge Dor
é Selections.
(Sorry, 2003 depicted).