This was a full-flavored,
gangly
-
limbed
white, with prominent peppery elements.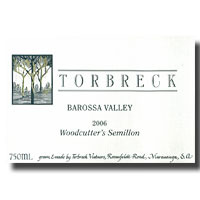 Eye:
Light brassy gold color.
Nose:
Sharp nose at first, but with airing it develops a rich, waxy lanolin character with pepper, as well as buttery pear and banana fruit.
Mouth:
Deeply flavored, full-bodied, but soft, with peppery pear, grass, and stone flavors. Long finish.
Score: 88.Drink or cellar?
My experience with full-bodied
semillons
is that they age pretty well for a white. This one may keep and improve for a year or two, but is pleasurable now.
Price/store:
$14.59 at Spec's on Richmond.