(Truncated notes from memory.)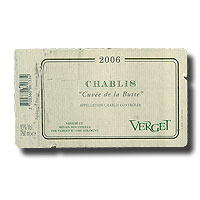 I had this unusually earthy Chablis (I'll skip any pun relating to the name of this cuvee) last night at the house of some good friends, but couldn't actually put my finger in the most prominent component of its nose and flavors until I woke up this morning: chicken broth!
Despite this uncommon aspect, it was still pleasurable and well-made. Underneath the broth were classic scents of lemony minerals and dry straw. It was medium-full bodied, and in the longish finish there was a nice purity to the lemon-limey fruit and the chalky minerals that emerged.
I got this for about $21 at Spec's on Smith, but it looked to be the last bottle on the shelf. I think I would have scored this somewhere in the 84-86 range, had I been scoring.
(Picture of 2006 -- couldn't find one of the 2004).