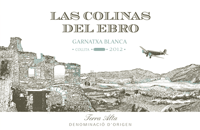 This 80% Grenache/20%Syrah (with the name Syrah listed first on the label to try to fool people into thinking that's the predominant grape varietal since Syrah is trendy and Grenache isn't) is a very good value. Nice ripe fruit and minerality, well-balanced and smooth.
Rich dark ruby color. Medium intensity nose of ripe blackberry and black raspberry fruit, along with hints of sweet baking spice and smokey stones (almost like the smell of a recently ignited caps for toy guns, if anyone can remember what that smells like). Bone dry, with squeaky clean black raspberry fruit and loads of clean stony minerality. Clean, medium-long, clingy finish. Not super complex, but really nicely put together.
B+
. Was $12 at Whole Foods in Arlington in Clarendon. Imported by Grapes of Spain (Aurelio Cabestreros) of Lorton, VA.
(The label depicted is for their white, but the Syrah/Grenaches's label is virtually identical.)