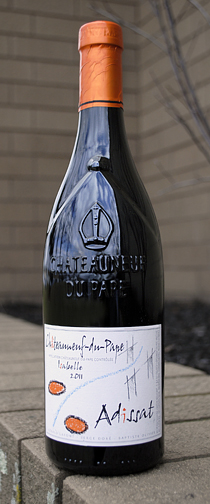 A simple, gutsy, large-scaled red. Maybe a couple of years will bring a bit more complexity, but right now it's like a big, gangly teenager.
Very dark ruby/violet. Intense, straightforward nose of black raspberry fruit, and smoky minerality. Huge and ripe in the mouth. More like a Spanish Garnacha or big Cali field blend than a CDP or anything else from the Rhone. Loads of soft tannin , and massive body. Lowish acids. I'd let this sit a year or two to lose its galumphy directness, but not much longer, as the alcohol is likely to start burning through the fruit.
B.
Was $26.99 from WTSO.com, which, given that this is comparable to a good $12 - $15 old vine Spanish Garnacha, makes this a poor value. Imported by Serge Dore Selections.