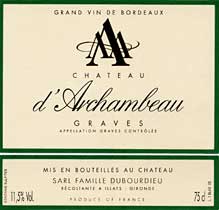 A solid, workman-like red Bordeaux at a decent price.
Jet black ruby with the bare beginnings of brick at the rim. Fairly closed nose, even with air time and being poured through a
Vinturi
. Light intensity aromas of cassis, toasted oak, resin, and scorched earth. Broad mouthfeel, with medium-fine-grained tannins present throughout. Ripe but bone dry flavors: dry, dark blackberry, smoky gravel. Long, interesting, though not particularly soft finish, with a slightly bitter, scorched edge. Elegant is not a word that describes this wine, though it was pretty satisfying in an unpolished way.
85.
Was about $15 at Spec's Warehouse on Westheimer and Commonwealth.